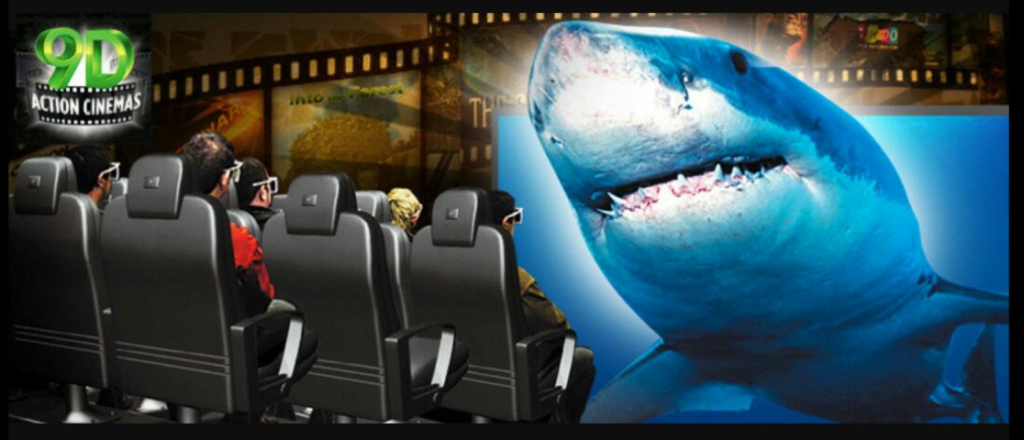 Overwhelm your senses with the stimulating and exciting 9D animated movies with surround sound, coupled with "active motion" luxury seats and dramatic effects such as rain, fog, lightning, wind, snow, touch, feel and more. You will enjoy this genuine "action ride" visual experience like you have never enjoyed on any amusement ride before.
Our short animated movies are created especially for 9D so that they create the many distinctive visual effects to maximise your experience and enjoyment. Some movies may have more effects than others depending on the film. Generally the overall experience lasts approximately 7-10 minutes (depending on your choice of ride) though you will feel you have been there for quite a period of time…we guarantee it!
Canyon Coaster
Ravine Racer
Jetpack Adventures with Jett & Jin
Aqua Ride
Mine Explorer
Walking with Dinosaurs
Bloody Road 1, 2 & 3
Ghost
The technology we use is revolutionary and is progressively updated to enhance the experience. We are always adding new movies each month, with a full list of movies available at our box office.Call in today to experience movies like you never have done before!
Don't forget to check out our Facebook & Instagram pages for special offers and future promotions. Also, don't forget to leave us your kind reviews!
Planet Cork holds Ireland's largest indoor soft-play for kids (Cosmos World), as well as Ireland's first 9D Cinema.
Contact us for more information and to make a booking. Call 021 4300700.